Next week is the finale. Louise is amazed how they are bonding really well. So, this week's theme is trust. However, there is a trust issue between the contestants. Citira talks to Jerald that Matty is quite suspicious with his supplements to take before the competition. Citira confronts Matty, but Matty does not admit about that. Now, there is a gap between them.
The contestants are split into three teams of two. Mitch is added to make it even. Kristina who chooses advantage over immunity in the previous challenge gets her advantage now which is to choose the teams for the physical challenge. Kristina picks Mitch to be the red team, Jerald goes with Citira as the green team and Vanessa and Matty for the yellow team. The challenge is to finish the obstacle course while blindfolded with the guidance of their partner.
Vanessa, Mitch and Jerald are the first to do the obstacle. Mitch obviously leads and finishes first with almost no challenges, except he slips on a block which Kristina does not see. Jerald has a problem on the balance beam. He falls twice and he is kind of losing his confident, but he still beats Vanessa who stucks on a course and leaves a tight race between Kristina and Citira in the beginning.
As soon as Vanessa finishes the course, Matty catches the other team, but he could not beat Kristina who finishes first and becomes the winner of the challenge. In the end, Matty feels really good to beat Citira (and Jerald) after the incident in the beginning of the episode.
It is a gym time. Louise shows them the cover of Fitness First magazine which is part of the prizes to inspire them. Jerald feels that he is pushed by Mitch for two possible reason whether Mitch wants to push him or Mitch is just disappointed because he is not good enough.
This week's #F4FMovement is burpee.
This week's fashion challenge is about intimacy. Kristina who wins the physical challenge gets another advantage to decided the team again. Kristina decides to keep the team like in the physical challenge. Kristina keeps the team stays the same because she feels that Jerald and Citira are too self conscious adn it will ruin their photos, while she feels that Matty and Vanessa will be over dramatic and sensual. Louise sees the difference between Jerald and Citira who are really terrified and Matty and Vanessa who cannot wait for the photoshoot.
Matty and Vanessa's photoshoot turns out to be more intimate than they expected. Matty whispers to Vanessa that he will kiss her, but Vanessa tries to stay focused and does her thing as a professional model in a photoshoot.
Citira is afraid that her family will see this photoshoot and starts to create a barrier between her and Jerald. Todd realizes how they are disconnected. Jerald works really really hard to work it out, including touching Citira's bumps.
Kristina and Mitch have a story as a husband and wife going for honeymoon in Argentina. Louise keeps asking Kristina to be softer most of the time.
They end it with another group photo like usual.
This week's elimination is different with the previous elimination because Louise does it one on one.
Citira
Louise loves how to see Citira's passion blossoms during the competition.
Jerald
Jerald has a very emotional hanging challenge which is his peak, but Lousie feels that he is going down the hill weeks after that.
Matty
Louise finds Matty has a trouble in relaxing.
Vanessa
Louise sees how Vanessa is improving, but the others are more and faster than her. Vanessa wants to be an inspiration for people with her transformation.
Kristina
Kristina shines in the fashion challenge, but Louise feels that she is too sexy most of time. Kristina feels that she is a passionate person so it is translated (as too sexy) in photoshoots.
Louise tells them that there will be a physical challenge in the finale before they proceed to the fashion challenge, but one of them will be eliminated in the physical challenge. The fashion challenge will be a runway held in Kuala Lumpur in KL Fashion Weekend four months from the elimination. The finalist will be guided with Fitness First and fashion expert.
Citira will be the role model for moms. She is in the finale.
Matty will be one tough guy to beat. He is in the finale.
Kristina is unique and beautiful and she is ready. She is in the finale.
Vanessa does a fantastic job in fashion, but no matter how she tries in the physical challenge, it is still too tough for her.
Jerald shows improvement in the physical strength, but Louise is more than concerned that he is too far to catch the others in fashion.
"Jerald, you are not fit for fashion."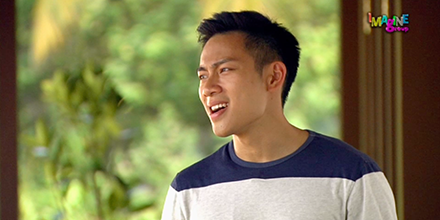 It is indeed one of the most shocking eliminations, at least for me. Jerald might not be as strong as before in the physical challenges, especially in a team challenge of two, but I do not think he is far behind the others in fashion. Five of them are about in the same level in fashion challenge. It is kind of confusing that Jerald got that kind of comment considering Vanessa was castigated for having one look wonder in the fashion challenge.
They have to remember that there will be an elimination based on the physical challenge before the fashion challenge. Louise is kind of giving a free pass to Matty, Citira and Kristina to be in Top 3. I really hope and expected to see both of the rivals, Matty-Jerald and Kristina-Citira to be in Top 4, but it is just a wish now. I hope to see Kristina wins though because I really see her transformation for being one of the weakest in physical challenge in the beginning and she is quite consistent in delivering in the fashion challenge.
Next Week : The physical challenge will eliminate one of them !
#F4FMovement #FitForFashion #FitnessFirst #F4F #ExerciseYourRight #F4FTransformation
If you miss this episode or just want to see this episode again, you can watch the repeat on
- Sundays 8:45PM MAL/HK or 7:45PM JKT/BKK
- Friday 3:25PM MAL/HK or 2.25PM JKT/BKK
You can also watch this week's episode back-to-back with the next episode next week before the next episode airs.