This week's theme for the challenges is mind over body. Louise tells that athletes win because they have visualized it in their head. So, the positive mind is very important. Rusty also gives a great quote "if you don't mind, it doesn't matter". This week physical challenge is hanging out from a truss over the bridge while Jerald, Matty and Kristina are afraid of height. The contestants compete individually against their own gender to make it fair for the ladies.

The contestants are paired against the opposite gender. First up is Rusty and Kristina. The over confident Rusty is surprisingly beaten by Kristina who is really proud of herself conquering her fear of height. Second is Matty and Citira. The judges complement both of their performance. Third is Fred and Vanessa who falls earlier. Fourth is Shiva and Chelsey. Chelsey falls earlier and Shiva falls later because he fails in changing his grip. Last but not least is Jerald and Ming. Jerald does prays when he is above, while Ming fall early and looks disappointed. Jerald successfully holds his grip by thinking of how his late father survives his Leukimia in six months.

And the result is not disappointing for Jerald because he is the winner of the physical challenge with 3 minutes and 45 seconds with 2 minutes gap with the other men along with Citira who has 1 minute 13 seconds record as the only woman who passes 1 minute. Jerald and Citira get an advantage in the fashion challenge as the prize of winning physical challenge. They will get a private lesson with Louise Roe before the challenge.
After the physical challenge, it is a gym time. Mitch reminds the contestants that this competition is not a weight loss contest nor fashion contest, but it is about a transformational experience and the one who wants to transform oneself. I do not think we find this in Fred since he confesses that he wants to win this competition to win the money prize for traveling more to South Africa to meet his son. It is definitely not a good, maybe even a wrong decision to join the competition. There are other people who really want it than him. Don't forget this Week #F4FMovement is step-ups.
Louise shares her wildest fantasy to open the fashion challenge. She wish that shoes grow on tree as we see Clark shoes on tree with the contestants' name on it.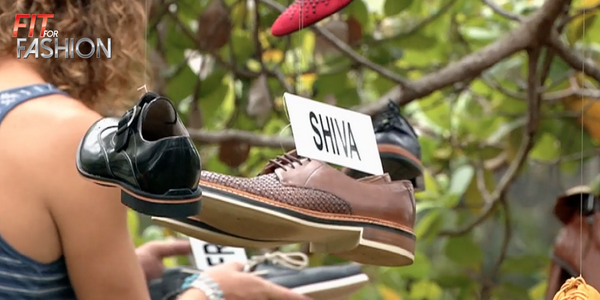 The fashion challenge for this week is a runway show. This challenge tests the contestants ability to present themselves to the world with confident. Citira and Jerald get a private lesson with Louise as Jerald points out an interesting lesson from Louise to do on the runway. Jerald shows the lesson of sleepy look.
The fashion challenge has come. Jerald, Kristina and Vanessa rock the runway as expected since they have more fashion related experience than the other contestants. Most of the contestants walk weirdly with many stops and poses on runway, but the worst walker goes to Fred. He walks awkwardly, he looks at his watch awkwardly and everything is awkward. He even mentions that fashion is pretentious and waste of money. This statement is validated by his girlfriend, Chelsey. It makes him looks even worse. He really just runs for the money. He does not belong in this competition.
Jerald receives a message from Louise to meet her in 2 minutes. Louise is disappointed because some of them are not improving and might be falling back. She decides to do on the spot elimination. Jerald is declared as MVP this week for nailing both physical and fashion challenge. He will get an advantage in the next challenge.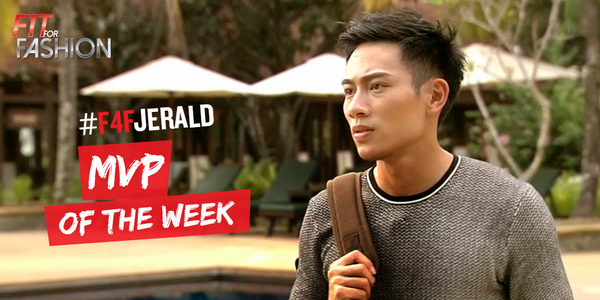 Kristina, Citira and Matty are also safe, but Louise gives them note to use their power with brain. Chelsey and Vanessa who are the opposite attract are also safe because they have great spirit and listen. Ming and Rusty are also safe for showing improvement. It leaves Shiva and Fred in bottom two.
Both of them are doing good-but-not-great in the physical challenge and disappointing in the fashion challenge.
"Fred, you are not fit for fashion."
Shiva is saved for trying new things, whereas Fred's lack of fashion sense is a dead end for him. Louise knows that Fred does not care about fashion. She wants see people who want to change and not just for the money.
Jerald is a well-deserved MVP this week. We really see how he shines in those two challenges. Fred's elimination is quite predictable since this week we see a lot how he does not really care about the competition as he only cares about the money. He should have been eliminated last week instead of Andrew. Rusty and Ming are still below the average for the physical challenge. If they do not improve, they will be in danger for the next few weeks. Kristina starts to be a stronger competitor. She really pushes herself in physical challenges and she shines in the fashion challenges as expected.
Do you agree with Fred's elimination ? Who do you think will be eliminated next week ? Sound off below !
Next Week : Dust and wind ! Rusty wants to give up in gym time ! Music video challenge ! Matty gives a wrong answer to Louise !
#F4FMovement #FitForFashion #FitnessFirst #F4F #ExerciseYourRight #F4FTransformation
If you miss this episode or just want to see this episode again, you can watch the repeat on
- Sundays 8:45PM MAL/HK or 7:45PM JKT/BKK
- Friday 3:25PM MAL/HK or 2.25PM JKT/BKK

You can also watch this week's episode back-to-back with the next episode next week before episode 4 airs.

Good news for Indonesian people ! KompasTV airs Fit For Fashion every Saturday starting on October 25th 2014 at 00.30.